Guest Services
ATM
Located in the main terminal waiting area near the restaurant/lounge.
Cell Phone Waiting Lot
A FREE cell phone waiting lot is available for people picking up passengers. The lot is located near the Airport Administration building, prior to reaching the terminal.
Coat Check
Passengers who do not want to take their coats with them on their flight can check it at the information desk. To reserve this service, go to our coat check page. This is a credit-card only service and costs $10 per item.
Charging Stations in Terminal
Seating throughout the terminal, including pre- and post-security, are equipped with AC outlets to recharge laptops and other electronic devices.
Electric Vehicle Charging Stations
The airport has partnered with ChargePoint to offer EV Charging stations at CID. There are two spots in the long-term parking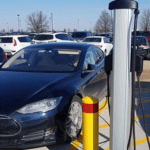 lot and two spots in the short-term parking lot.
There is no fee to use the charging station; regular parking fees do apply.
For more information, please go to: ChargePoint
Disability Services
The terminal is handicap accessible. For people using wheelchairs, there are specially designed curbs, doors and elevators located at key locations. Elevators featuring Braille floor designations and raised control buttons assist the visually impaired. Service animals are permitted in the terminal. Airlines offer special escort/transportation services upon request, with wheelchair assistance provided from the curb to the airline gate. Customers can also have a Guest Services Associate paged to provide wheelchair assistance, along with luggage service and valet parking. To reserve Guest Services assistance call 319.398.7077.
Donald D. Swanson Executive Conference Room
Located pre-security, this conference room is available for rent for $25 an hour or $100 per day. Nonprofit groups may be able to use the room at no charge, depending on availability. The conference room is fully equipped with free WiFi access, conference phone, audio/visual projector, and PC (MS Office and Adobe Reader installed). If you have any special IT needs, please contact ITsupport@flyCID.com to make arrangements.
To reserve the room, call the Information Center at 319.362.8336.
Emergency Services
For an emergency, call 911. Airport public safety officers are on duty to serve you. Call 319.731.5722 for non-emergency services.
Guest Services Associates
Available to assist passengers with luggage, wheelchair assistance, valet parking as well as other services. Guest Services Associates can be found in the terminal or by calling 319.398.7077.
Handicap Parking
Available in the short-term and long-term parking lots. A handicap hang tag or license must be displayed to use a handicap parking spot.
Information Center
Located in the center of the terminal lobby, a Guest Services Associate can assist you in answering your questions about the airport or the region. Please contact the information center at 319.362.8336.
Lost and Found
If you have lost or found an item in the airport, contact the Information Center at 319.362.8336 or Airport Public Safety at 319.731.5722.
Mother's Room
There are two rooms, one is located pre-security next to the women's restroom in the main lobby of the terminal. A second room is upstairs, post security in the area by the main upstairs restrooms. Both rooms have a sink, counter and glider rocker in the room.
Thanks Again
Thanks Again, The Eastern Iowa Airport (CID) and the growing network of more than 100 other airports have joined forces to say "Thank You" to the millions of customers who shop, park, and dine at an airport. Start earning today!
TSA Precheck Enrollment
You don't have to wait to enroll in TSA Precheck. Simply go to TSA Precheck Enrollment to fill out the application online. You will then be able to make an appointment for your required follow-up at ERS, Inc., located at 625 First Ave. SW, Cedar Rapids, IA 52405.
Wi-Fi
Free internet access is provided throughout the terminal, courtesy of the Cedar Rapids Airport Commission/The Eastern Iowa Airport. If you have any trouble accessing the internet service, please go to the Information Center in the terminal for assistance.
Gifts & Dining
| Name | Hours |
| --- | --- |
| Prairie Bistro | Temporarily closed |
| Gift Shop | Temporarily closed |
| Vending machines | Available 24/7 near Family Restroom |
| Name | Hours |
| --- | --- |
| Cedar Ridge Barrel Room | Open Daily (Hours vary throughout week) |
| Fly Zone | 4:00 a.m. - Last Departure Daily |
| The Java House coffee kiosk | 4:00 a.m. - 7:00 p.m. Daily |
| The High Porch sports bar and restaurant | 10:30 a.m. to Last Departure Daily |