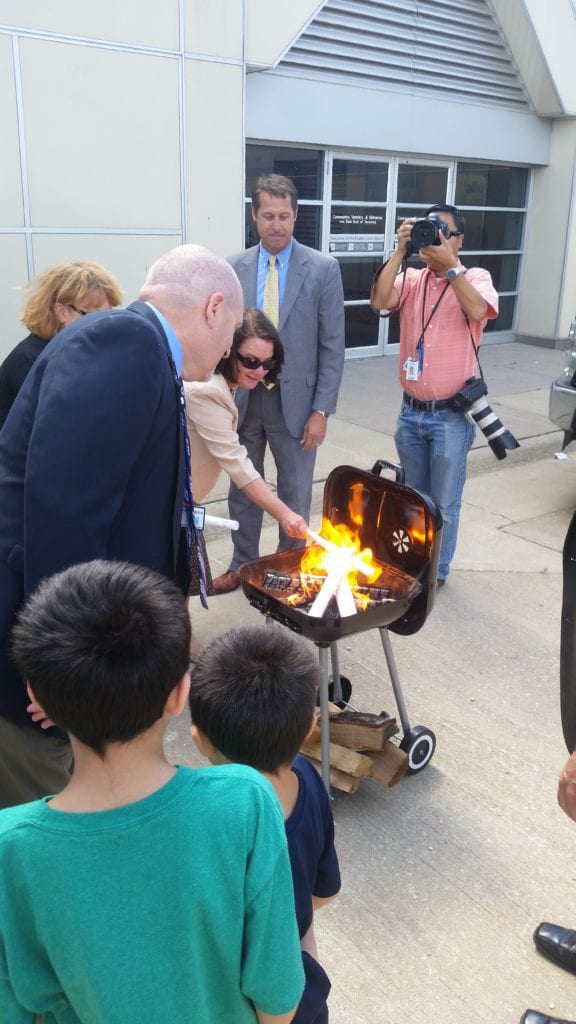 Cedar Rapids, IA: The Eastern Iowa Airport (CID) is celebrating the final payment on its debt service on Tuesday June 23 at 10:30 a.m. with a bond burning ceremony.
The airport has a history of very forward thinkers who took calculated risks for the good of the airport and community. In 1983, the commission took such a risk. In the middle of a recession, the commission decided to build a new terminal to be funded in part through general obligation bonds. This decision, considered very risky at the time, in hindsight positioned CID to grow into what it is today. CID has a strong reputation for being proactive in ensuring the facilities meet the needs of the public while being fiscally responsible ensuring self-sufficiency and sustained viability.
The Eastern Iowa Airport does not receive any city or county property tax revenue, though it is owned by the City of Cedar Rapids. It is a self-sufficient entity deriving its annual revenue from facilities rentals and fees, user fees, federal and state grants, concession revenue, and farm rentals. Further, the airport is in the middle of a $50 million dollar renovation that will include updating the terminal, improving the public parking lot, repaving the terminal drive, replacing all of the jet bridges, building a jet friendly B concourse, and expanding the security checkpoint and C concourse, all being done without incurring any new debt, burdening the tenants or passengers, or accepting any local or county taxes.
The last 30 years have been a time of considerable growth for CID. Since 1983, the City of Cedar Rapids has issued 10 general obligation bonds on behalf of the Airport totaling $28,025,000.The money was used to fund 14 Capital Improvement Projects, including:
June of 1983: $9.5 million for a new terminal, parking & roadway.
December of 1992: $5.13 million for the expansion of the existing cargo building, currently UPS, and construction of the now DHL Cargo building and FAA facilities.
June of 1995: $2.015 million to build the private car rental facilities off of 18th street.
June of 1998: $1.525 million for the Field maintenance and Salt/sand facility and terminal renovations including new carpet, signage, furniture, FIDS, and improved mechanical systems.
September of 2000: $2.7 million for the construction of 20 new T-hangars and public parking lot improvements
September of 2003: $2.525 million to build a new FBO facility.
In a 2009 State Air Service Study conducted by the Iowa Department of Transportation, the top three factors for companies when determining whether to relocate or expand in an area are availability of trained workforce, tax incentives, and proximity to commercial airport. The Eastern Iowa Airport is a vital asset to the community and region. It provides a valuable connection to the world for our businesses and citizens.
"This is a testament to the strong financial team at The Eastern Iowa Airport and thoughtful execution and fiscal responsibility demonstrated by the airport commission throughout its existence," said Marty Lenss, airport director, The Eastern Iowa Airport. "Debt free translates directly into lower rates and charges for our airport tenant customers."