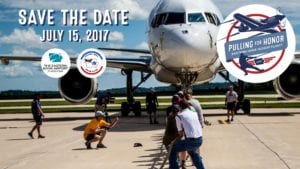 Pulling For Honor is a fundraiser benefiting Eastern Iowa Honor Flight. The mission of Eastern Iowa Honor Flight is to transport America's veterans to Washington, D.C., to visit the memorials built to honor their service. Pulling For Honor began in 2016 to raise funds for Eastern Iowa Honor Flight. Teams of 25 compete to pull a Boeing 757. The team who pulls the plane 12 feet the fastest is the winner. Last year, Linn Star Transfer took home the trophy with a time of 6.422 seconds. Do you think your team can beat the record this year?
When
Saturday, July 15, 2017
8:00 a.m. to 1:00 p.m.
3435 Beech Way, Cedar Rapids, IA 52404
Team Registration
Think you've got the muscles to win Pulling For Honor 2017? Then grab 25 of your closest friends and start fundraising. Each team must make a minimum $2500 donation to Eastern Iowa Honor Flight in order to participate. We are extending the date to accept donations and participation waivers to July 7. You can complete your team registration today. Designate a team captain who will be responsible for registering your team and collecting donations and waivers.
Team captains – Register your team here.
Sponsorship Opportunities
Interested in being a sponsor? Sponsor benefits can be customized to meet your company's marketing needs and
charitable gift requirements. Sponsorship opportunities have been designed to provide organizations
with marketing and team-building options. Sponsorships are available on a first-come, first-served basis.
Download the Sponsorship Packet here.
Features
Kids Zone: A kid-friendly area with games and activities will be provided for our younger attendees.
Young Eagles: The Experimental Aircraft Association (EAA) Chapter 33 will be on site offering free flights for kids ages 8-17.
Stay tuned for more!